Services
Piper Wit Limited & Techsummark.net



And likewise, the fact that the young man's family was commonly facing some financial troubles has never noticeably bothered any of the young man's friends either, as something like that has never resulted in any indication of noticeable thought during their times together. As his friends certainly haven't been accustomed to their walking around with pockets filled with coins, at whatever age they were while residing in the same household with their parents and while situated in the midst of all of the troubles of this expanded time. Still, the young man has been the type of person who would stand rather than find a place to stoop, squat or sit while they were out and about and hanging out together.

Inclusively, the young man has consistently found some subject matter or current event on his mind that he has often been in the habit of openly mentioning or sharing in the presence and company of his friends while they hung out together; and quite often they would sit, squat, stoop or lean on something while he's in progress of making his verbal delivery, and during which times most of his friends that were present usually carried a concentrated look on their faces while looking at him as he spoke; as though they were board members of some type; but maybe all along it has been just blank stares of theirs. Who know?

But by chance, this young man who this story is centered around meets up with someone who becomes his mentor, a man who suffices as that direction that has been missing in the young man's life. This mentor is a former congressman, and the young man and the congressman meet for the first time in a city park, and strike up a long and eventful filled friendship as well as a pivoting mentor-ship. They talk a lot together after their first meeting, and share bits and pieces of personal insight with each other, and find that they rather enjoy each others company, though the age difference is quite significant.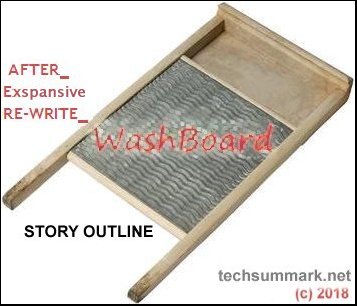 Page 5 of 19
WashBoard (story outline) [After exspansive ReWrite]
Copyright © 2022 by "techsummark.net" · All Rights reserved · E-Mail: info@techsummark.net